New World Update
From Aion PowerBook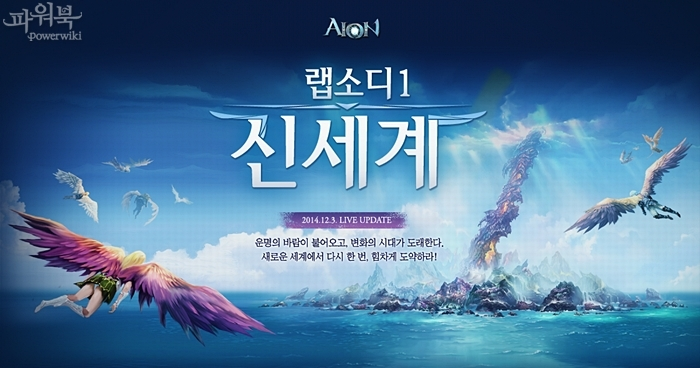 Winds of Destiny. Rhapsody 1 - New World Update

Balaurea has been destroyed and 3 regions sank into the ocean. But fear not because what you see on the horizon is a new land.
Embraces the power of the unknown, Daevas that are still alive will start a new journey.
Update Overwiev
'Winds of Destiny Update has been released on the live server on December 3rd, 2014.
Main Content
What's New in the New World Update?

1. Class Skills Renewal
2. Stigma System Renewal
3. New regions: Signia and Vengar
4. Rift system expansion and Conqueror · Protector System added
5. New Makarna Instance added and renewal of old instances
6. Territory Battles added
Update
Winds of Destiny. Rhapsody 1 - New World Update
Environment
A collapse of 3 zones revealed a new land.
Tiamat's homeland Signia · Vengar emerges.
Territorial Battle
In Signia and Vengar players can find Territorial Battles. Occupying one will give your legion various benefits.
Space-Time Rifts
New Space-Time Rifts have been added.
Conqueror · Protector System connected to the Rift system has been introduced.
Instanced Dungeons
New instance has been added. 3 upgraded version of existing instances have been added.
Fortresses
Because of the removed content siege time table has been adjusted.
Character
Conqueror · Protector System has been added.
In addition from now on you will always be able to use skills when transformed after using special candies.
Skill Changes
Job-specific skills, consolidated and improved skills. Vision Stigma Skills have been added.
Race specific skills have been removed, skill chains have been reorganized.
Stigma
Stigmas can now be equipped without Stigma Shards.
Stigma Enchanting System has been added.
Item
Purchasable supplements have been reorganized, new items for Insignia of Conquest have been added.
UI
Greater Stigma system has been reorganized.
Skill tooltips and Skill UI have been changed to a more intuitive ones.
Quest
New area and instance quests have been added.
New Honour Points quests have been added.
NPC
Inggison · Gelkmaros monsters drop Insignia of Conquest from now on.
Signia and Vengar have been added to the Beritra's Invasion list.
Etc.
Other changes.