IMPORTANT!
As part of 6.2 preparations, in few days some outdated pages will be removed/edited. All the accounts will be wiped. Mediawiki software will be updated.
After the change, links like /Item:100200741 will no longer work, instead, a slash will be required instead of colon (Ex. /Item/100200741).
5.1 Update
From Aion PowerBook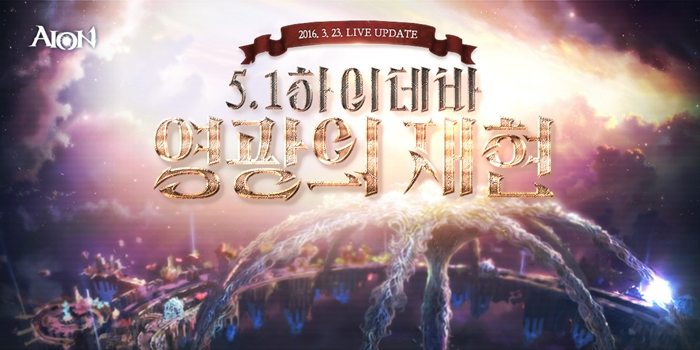 5.1 High Daeva: Return of Glory

On March 23rd, live servers have been updated to 5.1.
Return of Glory is a subtitle for the newly added instances and battlefields. Additionally, Magical Crafting crafting has been added.
Official Trailer
Main Content
5.1 update
1. Magical Crafting System
2. The Garden of Knowledge and Kroban Base
3. High Daeva Battlefields
4. Rookie Server expansion
Update
5.1 High Daeva: Return of Glory
Garden of Knowledge and Kroban's Burning Home instances have been added.
High Daeva Battlefields such as new Dredgion have been added. New Insignias for High Daevas competing in the Arena have been added.
New missions that go deeper into the High Daeva's story have been added. Also, check new field and instance quests.
New merchants selling items in exchange for Infinity Insignia(s) have been added. Organization of merchants in the Crucible Coliseum lobby has been changed.
Various new items, Skill Buff Reassignment and Recommended Level Reduction systems have been added.
High Daeva dedicated crafting, Magic Production, has been added. This system allows High Daevas to produce items anywhere they are.
Rookie Server can now be used up to level 65. Buffs will now show in a different order, environment has been improved and other changes have been applied.
---
Share your opinion