KR - Update November 16th 2016
From Aion PowerBook
Items

1. 'Attack Power' will now be displayed in the tooltips of Weapons/Armours/Accessories.
- 'Attack Power' is a sum of the item's abilities.
- 'Attack Power' will be different depending on the character's profession.
- 'Attack Power' will reflect enchanting or any changes made to the item.
- 'Attack Power' will not be displayed if the item cannot be remodelled.
Attack Power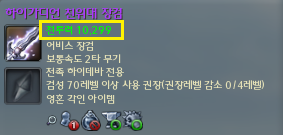 2. The maximum charge value, and automatic charge value of the Golden Star have been changed to 2%.

3. Drop of some Upper Abyss monsters has been changed.

4. Items from the Antriksha's Ascension Site have been upgraded.

5. Items from the Illusion Equipment Box, obtainable in the Trillonerk's Gold Vault, will now enhance one of your skills.
UI

1. Conditions under which you can fill the Monster Book have been changed.
- You can now obtain monster illustrations by killing monsters on the opposite race's map.
- To complete the Monster Book for the Esterra/Nosra regions you must be level 66 or higher.
- Monsters that are classified as 'Normal' can be killed in a group, 'Superior' monsters can be killed in a group or alliance.

2. Phase compensation in the Monster Book will now be displayed differently.
- [Receive Reward] button will now be displayed next to each phase reward.
- Experience reward will now be displayed as a (%) based on the character's level.
- After acquiring the compensation for phase 5, the experience gauge will no longer be displayed.
NPC

1. Script error for the Pernon Mount Administrator NPC, has been fixed.
Character

1. Avatar characters will now be able to select Awakening/Courage Scrolls when opening the welcome package.
Instances

1. An issue with characters sometimes not matching required conditions for the Trillonerk's Gold Vault could enter the instance has been fixed.