5.0 Update - UI
From Aion PowerBook
Strengthening Window

1. Added enhancement / modification window.
- Various functions that use items from your inventory will now be handled through enhancement / modification window.
- enhancement / modification window can be accessed by right clicking an item and selecting enhance from the wheel menu.
Available Features


Upgrade Stone Enchanting

Breakthrough Enchanting

Manastone Socketing

Godstone Socketing


Upgrading

Applying Idians

Re-tuning

Conditioning/Augmenting


Upgrade Stone Extraction

Abyss Points Extraction


Dyeing

Wrapping

Soul Bind Releasing
Wheel Menu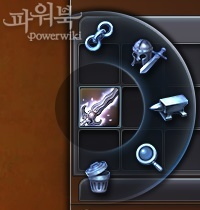 1. Wheel menu features have been added.
- From the Wheel Menu players can use, destroy, divide, strengthen an item.
New Instance Difficulty

1. New difficulty levels have been added to the instance window
- New indicators are reserver for difficulties between 11 and 15
- Difficulty higher then 10 is marked gold as shown in the picture.
Etc

1. 'Wings' category has been added to the Trade Broker.

2. Changed the way general quest marks appear on the transparent map.
- Hiding general quests feature will apply to quests below level 65.
- By default, this feature will be disabled. Go to preferences if you wish to change that.

3. Issue with item window not disappearing when profile window gets closed has been fixed.

4. Issues with some 'Back' buttons have been fixed.

5. Tourunrunerk Play Guide will now mention High daevas.
Related