6.0 Update - Skills
From Aion PowerBook
Skills have been revamped as a whole.
1. Common skills have been changed as follows.
- Remove Shock will now have a 30s cooldown and only one following skill will be available.
- Flight-related skills that have been rarely used have been removed.
(Example) Wind Mantra', 'Swiftwing' has been removed

2. Skill acquisition levels have been adjusted to match the new level expansion.
- Skills acquired from level 1 to 65 will now be learned in intervals till 75.
(Example) 'Flash of Speed' will now be learned at level 73 instead of 17.

3. Some skills have been deleted or merged. For some abilities have been changed.
- Skills with similar effects and skills sharing the same cooldown have been integrated.
(Example) 'Magic Assist' magic damage increased, 'Supplication of Focus' removed.
- Effects of some skills have been changed to passive.
(Example) Robe of Flame has been changed to a passive skill.
- Each class will now only have 2 DP skills.

4. Some skills will automatically change depending on your level.
- Warrior's 'Rage' will automatically change to Weakening Blow when you change to a Templar, and to 'Snickering Roar' when you change to a Gladiator.
- When you hit level 76, Raging Blow will be changed to Wild Leap.

5. Daevaion Skills have been added.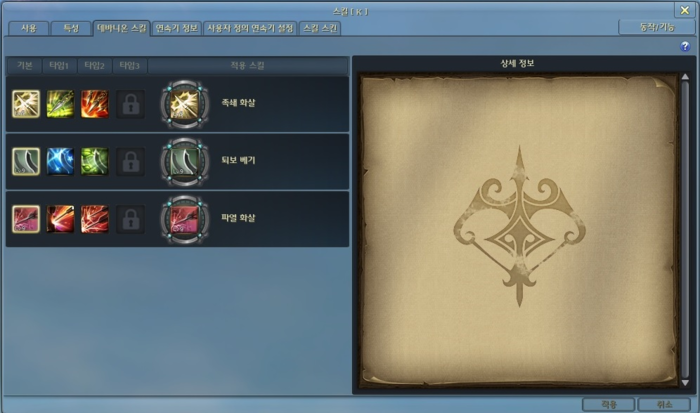 - Once you reach level 80, you can change a default skill to a new one with the desired effect.
- Daevanion Skills can be learned through a Daevanion Skillbook that can be obtained from the store, Smuggler Shukirukin, and some Instanced Dungeons.

6. You can now register up to 5 skills in the Custom Skill Chains.
6.0 - REFLY
New land, Lakrum, where Ereshkigal is hiding after her failed atempt to destroy Atreia.
Prometun's Workshop, Makarna of Bitterness and Draupnir Fortress.
New Fortress. Changes to the Contribution system. Battle League removed.
Changes to the Character's abilities.
Removed, changed and improved skills. New Daevanion Skills.
New transformation systems. Crafting profession removed.
New currencies. Changes to the old items.
New UIs to make your life easier.
New quests and organizations.
Other changes.