6.0 Update - Item
From Aion PowerBook
1. Gold Sand Shop has been added where you can purchase items with kinah and Gold Bars.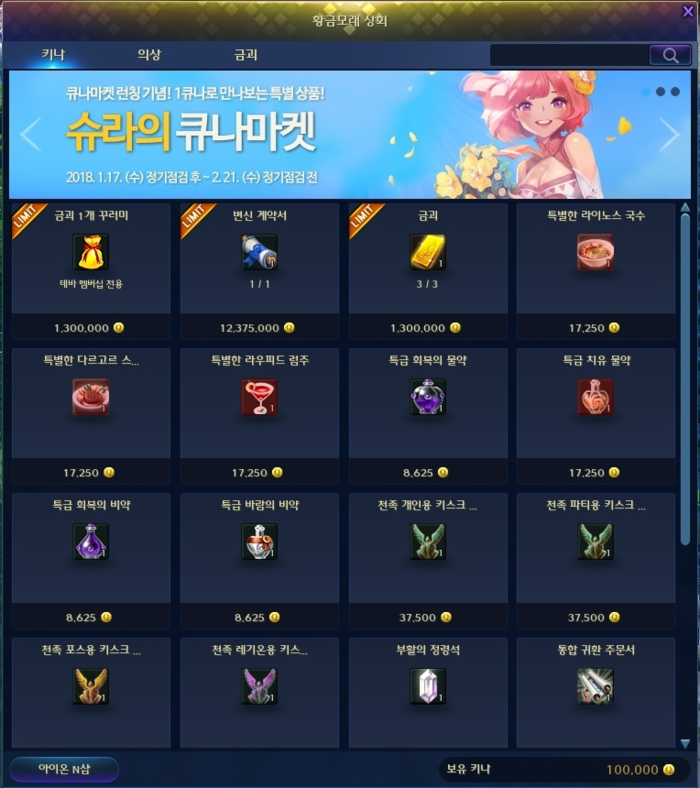 - You can access the Gold Sand Shop through an icon next to the quick bar or by going to [Menu - Support - Gold Sand Shop]

2. Quna Market where you can purchase various items using Quna has been added.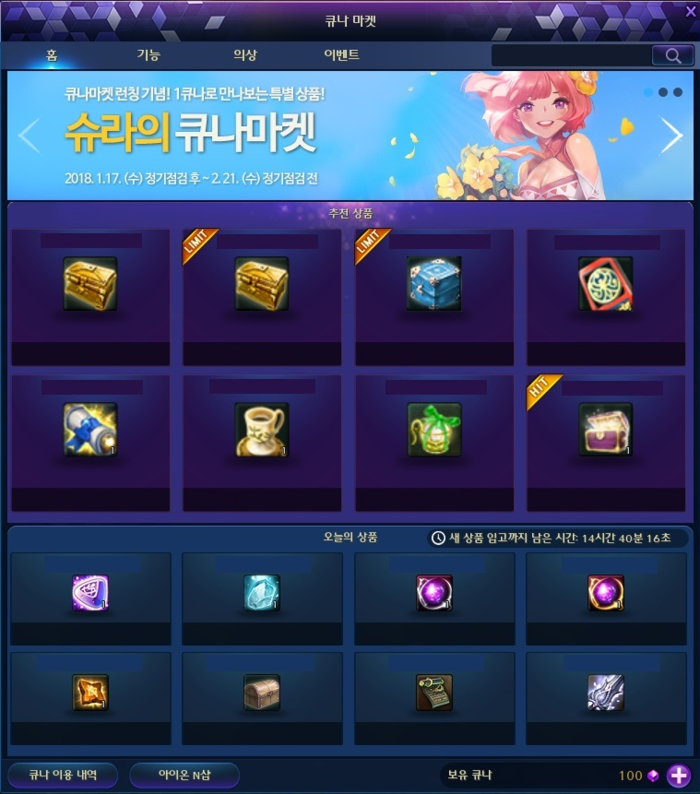 - You can access the Quna Shop through an icon next to the quick bar or by going to [Menu - Support - Quna Market]
Today's Items are changed every day at 0:00.
You can purchase functions, costumes, event-related items from there.

3. Level condition on high Daeva items has been removed.
- Existing High Daeva items can be used regardless of your level, and for items with recommended level, the stat reduction based on the level difference will remain.

4. Attack Power will no longer be displayed in the item's tooltip.

5. Only items with the sellable icon can be sold.

6. Removed items can be sold once you connect to the game.
- Removed items not in the cube must be sold directly.

7. Discontinued items can no longer be extracted.

8. High Daeva Fabled/Eternal/Mythic equipment items can now be wrapped an unlimited number of times.
- Quest items, Legion-only items, temporary items are excluded.

9. Improved the item purchase system directly from the character selection window.

10. NPCs exchanging old Enchanting items for new ones have been placed in the main cities.

11. Growth Marks are no longer available. The coins you have can be traded to Roya/Cheska.

12. Returning Scrolls to removed areas have been replaced by returning scrolls to remaining ones.
- Region-specific Scroll -> Integrated Scroll
- Dungeon Entry Scroll -> Selectable Dungeon Entry Scroll

13. Kinah in the possession of each character has been replaced by gold bars. Gold Bars can be used in Gold Sand Shop.
6.0 - REFLY
New land, Lakrum, where Ereshkigal is hiding after her failed atempt to destroy Atreia.
Prometun's Workshop, Makarna of Bitterness and Draupnir Fortress.
New Fortress. Changes to the Contribution system. Battle League removed.
Changes to the Character's abilities.
Removed, changed and improved skills. New Daevanion Skills.
New transformation systems. Crafting profession removed.
New currencies. Changes to the old items.
New UIs to make your life easier.
New quests and organizations.
Other changes.