KR - Update November 11th 2020
From Aion PowerBook
Instanced Dungeon

1. Labyrinth Instanced Dungeons has been added.
Entrance
Players
Level
Entries
Reset
Kaisinel Academy

Marchutan Priory

2~6
80
4/week
Wednesday, 9:00

- Kill named monsters to obtain 공허의 은화.
- Use 공허의 은화 to buy items from Dark Merchants inside the dungeon.

2. Rewards have been added to the 8th floor of the Tower of Challenge (lower level).

3. Entries and cooldowns have been separated for the lower and middle levels of Tower of Challenge.

4. The battle patterns of some monsters in the Makarna of Bitterness (difficult) have been changed.
Legion

1. The Legion system has been reorganized.
- The level of all Legions has been increased by +1 and the achievement points have been set to 0.
- The Task function has been removed and all Task-related quests can no longer be accepted or progressed.
- Legion UI has been changed and weekly achievements have been added. Weekly achievements reset every Monday at noon.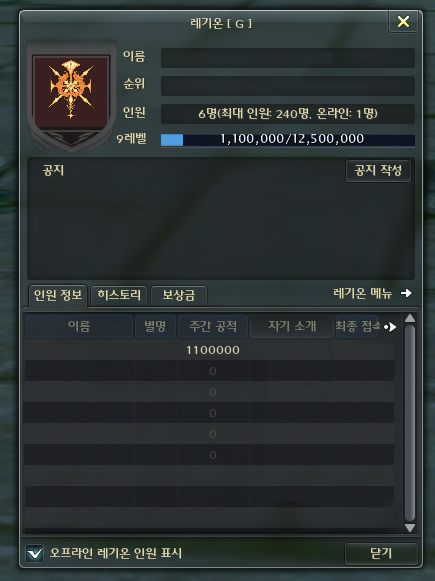 - You must achieve the maximum number of achievement points before being able to increase the Legion's level.
- If the maximum achievement points score for each level has been reached, the excess score will not be reflected in the final achievement score.
- The number of required achievement points and Kinah to level up a Legion have been increased.
- Some Legion-related messages have been changed.
Minion

1. The cost of using Minion skills has been removed.
Quest
1. Killing monsters in Inggison/Gelkmaros would not update the
2. Location function for some monsters required for the
NPC

1. Guestbloom NPCs will no longer appear when a village reaches level 5.
Character

1. Some hairstyles did not match the icons when changing the appearance of a male Asmodian character. This issue has been fixed.
UI

1. Aion Nshop page has been reorganized.

2. A typo in the pop-up window that appears when trying to add additional Instanced Dungeon entries has been fixed.
Related