KR - Update September 9th 2020
From Aion PowerBook
Minion

1. Minion Awakening function has been added.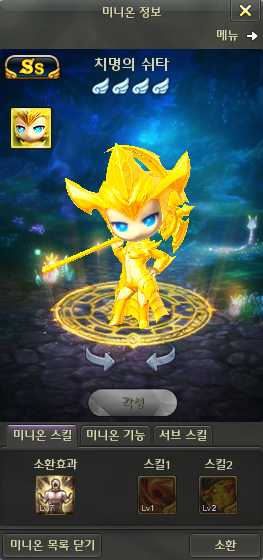 - Only Level 4 S-rank Minions can be awoken.
- Minion of the same grade is consumed as an Awakening material.
- A sub-Minion slot will open after Awekaning a Minion. You can register a Level 4 Minion in that slot.
- After summoning an Awoken Minion, you can use the skills of the registered sub-Minion. Depending on the sub-Minion grade, additional stats will also be applied.
- When you register an S Grade Minion as a sub-Minion, even more additional stats will be applied to the character.
Transformation

1. New Transformations have been added.

2. New Transformation Collections has been added.
UI

1. A function that displays a text entered through a [이벤트] 고급 확성기 in a scrolling text form has been added.
- The text is displayed at the top of the screen.
- It supports all functions as all previous Megaphones.
- You can select or enter the desired text color.
- In the race chat, a Megaphone is added to the message and displayed.

2. The location of the Top UI has been fixed.

3. The buff effect displayed in the Transformation buff tooltip would sometimes display incorrectly. This issue has been fixed.

4. The value of the increased drop rate of the Fairy Blessing would constantly increase. This issue has been fixed.

5. Transformation icons of 고양이 의사, 고양이 간호사 would display incorrect grade. This issue has been fixed.
Item

1. The names of Heavenly Vision Weapon Boxes have been fixed.

2. The effect that is displayed when mounting an Aethertech with Jorgos Aether Key has been fixed.

3. The location of the special effect displayed on Jorgos Orb has been fixed.

4. The appearance of some swimsuit costumes has been fixed.
Combat Support

1. The Combat Support would sometimes not work properly due to the automatic use of XP extractors and charging skills. This issue has been fixed.
Instanced Dungeon

1. The ranking details will no longer appear when you win in the Arena of Discipline when the opponent didn't enter.

2. You can no longer use Quick Entry to apply for the Arena of Discipline.
Sound

1. When buying or selling items, the sound would be played twice. This issue has been fixed.
Related