5.8 Update - Character
From Aion PowerBook
Divine Soul Healing

1. 'Divine Soul Healing' function has been added.
- 'Divine Soul Healing' can be used by talking to a Soul Healer.
- The function will heal your soul and restore your HP/MP.
- Divine Soul Healing can only be used when there is some recoverable XP.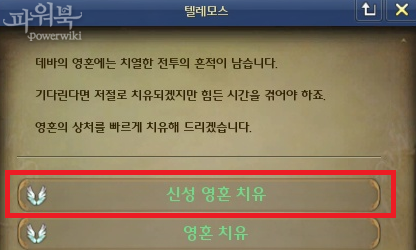 Skill Changes

1.
Armor of Attrition's tooltip has been fixed and will no longer be duplicated.

2. The range of the Holy Servant, Noble Energy,
Summon: Punishment Energy's will now be included in the description of the skills.
Other Changes

1. Maximum Magic Boost limit has been increased.

2. The amount of XP required to level up Magical Crafting has been lowered.
5.8 Land of Battle
Divine Fortress opened and new fortress features added.
Group instance Holy Tower, Solo instance Mirash Refuge, and PCroom-only Rift of Oblivion have been added. Some instances disabled.
Divine Soul Healing added. Magic Boost cap increased.
5 new Minions added. Difficulty of Minion growth lowered and growth effects insreased.
New and Spinel Coin quests added.
New Abyss and Spinel Coin items added. New Magical Crafting items added.
Monster map and chat UI improved. Atreia Pass changed including a PCroom-only version.
PCroom benefits increased, skill tooltips improved.