Dumaha
From Aion PowerBook

Dumah, a place that was once the domain of the Dragon Lord Apsu.
Stella Industries emerged to uncover buried legacy and power of the vanquished Dragon Lord.

A long time ago, Ancient Dragon Lord Apsu was thriving, but Apsu fell from the hands of Tiamat. As a Dragon Lord, Tiamat devested the lands with her powers, no one survived besides few species that served Apsu. The lands remained in such state for a very long time. As Tiamat Deserters and Stella Industries cooperation forms and Elyos and Asmodians advancing into the new land, a new turning point is born.
Dumah

You can move to Dumah from the Teleporter in Lakrum.
Elyos will find themselves at the Outpost of Victory, Asmodians at the Outpost of Prosperity.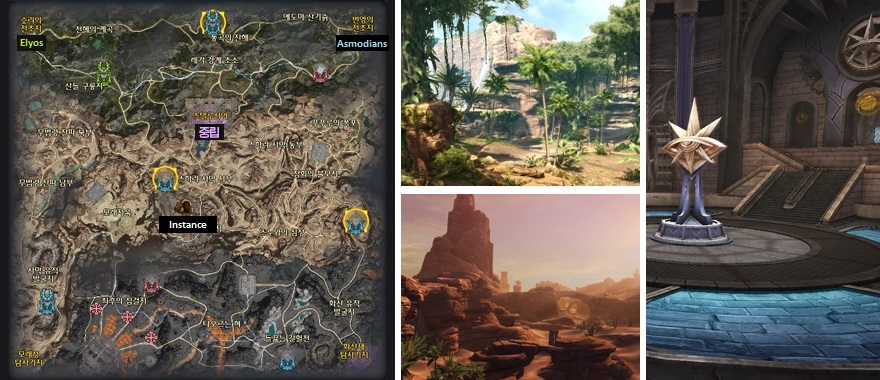 Dumah Introduction Guide

1. Collecting [T2] PVP Equipment

If you want to collect the new PVP equipment, you should start gathering Stellium.

■ How to Acquire Stellium

Level
Name
Description


80
Stellium
Coins provided by Stellin Industries.

Take them to the Demaha Altar Stellium Reward Officer or other Reward Officers to exchange them for reward items.

Double-click (or right-click) to use it directly and increase [%e1.StatUp.StatName] by [%e1.StatUp.Value] for [%e1.StatUp.RemainTime].
IMPORTANT!
The most basic Ancient equipment can be purchased at Lakrum.
2. Collecting [T2] PVE Equipment

If you want to collect the new PVE equipment, you should proceed with following dungeons.

■ Instanced Dungeon Guide

Dumah Schedule
Monday

Tuesday

Wednesday

Thursday

Friday

Saturday

Sunday

12:00 ~ 13:00

Altar Siege

13:00 ~ 14:00

18:00 ~ 19:00

Gold Arena (3vs3)

19:00 ~ 20:00

20:00 ~ 21:00

Altar Siege

21:00 ~ 22:00

22:00 ~ 23:00

Fortress Siege

23:00 ~ 00:00

00:00 ~ 01:00

01:00 ~ 02:00
IMPORTANT!
More details about Large Altar and Fortress Sieges will follow soon.