Wings
From Aion PowerBook
| ID | | Name | Level | Type | Version | | | |
| --- | --- | --- | --- | --- | --- | --- | --- | --- |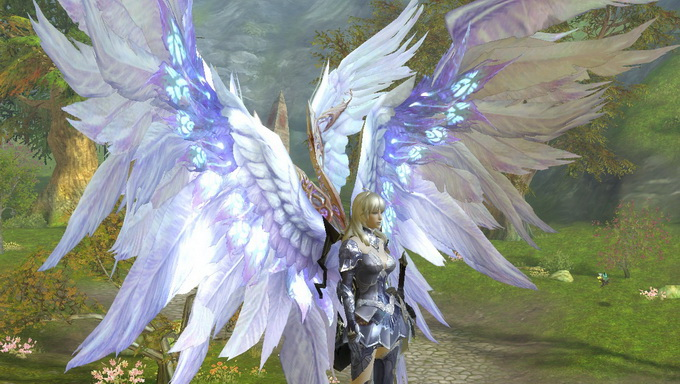 Wings are a Daeva's most recognizable feature!
At level 30, Daevas are able to equip Wing Feathers, which increase Flight Time and other attributes and alter the appearance of the Daeva's wings.

Wing Feathers can be bought from the Wing Feather Tuner in Sanctum or Pandaemonium, and can also be purchased with Daily Quest tokens, or acquired through Quests, Veteran Rewards, or special promotions. There are also a handful of Wing Feathers acquired through special means, such as the Storm Wings, a rare piece of loot from Stormwing, the final boss of Beshmundir Temple!
Equipping a Wing Feather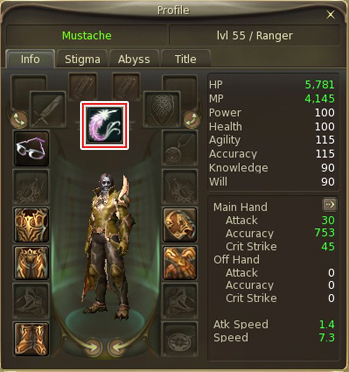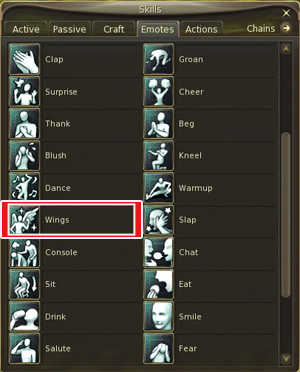 Wing Feathers are equipped in the Wing slot, located above the character model in the Profile window. Players can equip one set of Wings. Double click a Wing Feather in the cube to equip it, or swap it with another Wing Feather.

In areas where flying isn't allowed, players can display their wings by using the /wings emote. With this emote, players can display their wings while standing (any movement will retract the wings).
Wing Feather Tuners

Many Wing Feathers can be purchased in Sanctum or Pandaemonium from a Wing Feather Tuner. Wing Feathers tend to be expensive, and the lowest level feather is level 30. As players level up, more Wing Feathers will become available.
| | | |
| --- | --- | --- |
| NPC | Location | Example Wing Feathers |
| Elyos: Idomeneus | Sanctum | |
| Asmodian: Huron | Pandaemonium | |
Wing Feather Appearance Remodelling

You can change the appearance of most Wings just like you could change it for armours and weapons (Laokones / Keruthis). However, tradeable Feather Wings can usually be only used once for appearance remodelling so think twice before applying any changes.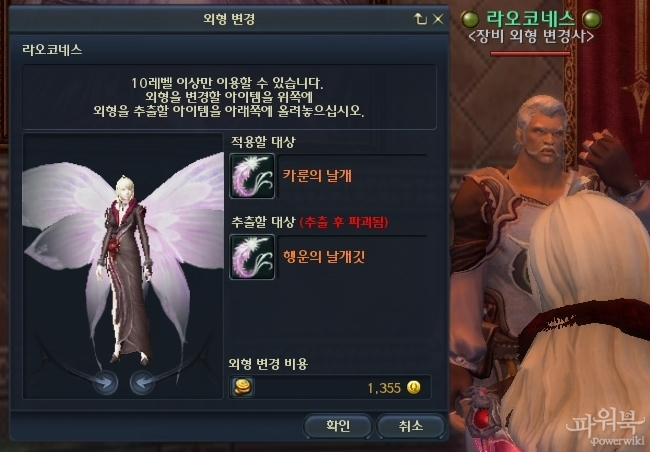 Enchanting 5.0
Item Type
Bonuses for every +1 between +1~+15
Bonuses for every +1 between +16~+20
Bonuses for every +1 beyond +21
Wings
HP +20

Flight Time +10

Strike Resist +2

Spell Resist +1

Swoop flight speed +0.1

Attack +1

Magic Boost +4

HP +20

Flight Time +10

Strike Resist +4

Spell Resist +2




Attack +1

Magic Boost +4

HP +40

Flight Time +20

Strike Resist +8

Spell Resist +4




Attack +2

Magic Boost +8