Divine Fortress
From Aion PowerBook


Divine Fortress, the place where the 3rd Dragon Lord Ereshkigal is resting.
You can take over the fortress by participating in a weekly siege.

Defeat Orris, the boss that has been persistently resurrected.
| | |
| --- | --- |
| Siege Days | Sunday (Once a week) |
| Siege Time | 21:00 ~ 22:00 |
How to Join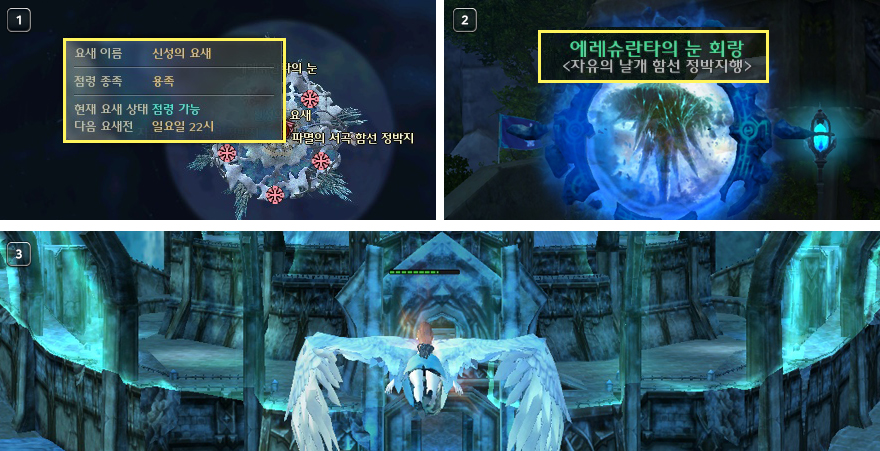 1. When the time and day is right, the fortress becomes [Vulnerable].
2. You can move to the Abyss through a portal that will appear in the main base in Lakrum.
3. Move to the fortress and join the siege.
[!] Eye of Reshanta Corridor will appear for 2 hours from 21:00 every Sunday.
Fortress Attack

To win the siege, you must defeat your opponents.
The siege will be over once the Guardian has been defeated.
Outer/Inner Fortress Gate

It's possible to fly outside the fortress, but not once you get inside.
Fly to the Outer Gate as fast as possible.


The Outer and Inner Gates can be attacked and destroyed without any additional conditions.
Guardian Attack

Once you move through the inner gate, you will see the Guardian General Oris.
Control your opponents and kill the Guardian.
Fortress Rewards

You can earn rewards based on your individual contribution and the end result of the siege.
Rewards will be sent once the siege is over and can be claimed from the mailbox.
Successfult Attack Rewards
Failed Attack Rewards