Skill Skin System
From Aion PowerBook
Skill Skin system, a system that allows you to change the appearance and your character motion while using particular skills.
Effect of the skills is the same, only the appearance changes.

- There are 3 skill cards for each class, using each card will allow you to change a skin of one particular skill.
- You can choose to apply a skin in the skill details ( K ).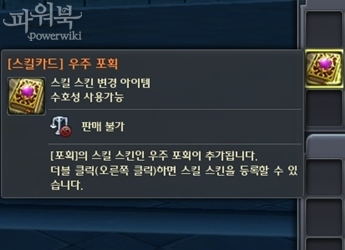 Gladiator

Absorbing Fury -> Hammer Rupture

Cleave -> Throw Hearts

Absorbing Fury -> Elephant's Wave
Templar

Sword Storm -> Chicken's Cluck
Aether Leash -> Tractor Beam

Shield Bash -> Frying Pan Smash
Ranger
Rupture Arrow -> Explosive Barrel Shot

Sleep Arrow -> Flanking Arrow

Stunning Shot -> Cannon Shot
Assassin

Shadowfall -> Bear Fall

Dash Attack -> Rocket Slash

Assassination -> Chicken Pox
Sorcerer

Storm Strike -> Robot Attack

Soul Absorption -> Soul Firecracker

Illusion Storm -> Bull Cyclone
Spiritmaster

Cyclone of Wrath -> Enraged Manduri

Infernal Pain -> Drake's Pain

Backdraft -> Absorb Star
Cleric

Divine Spark -> Charging Cat

Sympathetic Heal -> Sympathetic Heart

Land's Bargain -> Power Heart
Chanter

Incandescent Blow -> Bouquet Attack

Melee Smash -> Sugar Rush

Annihilation -> Pillow Fight
Gunner

Dazzling Fire -> Slingshot Aim

Missile Guide -> Gun Salute

Freeze Cannon -> Donut Cannon
Aethertech
Kinetic Slam -> Idium Hammer

Cinder Cannon -> Fist Fire

Meteor Strike -> Whale Crush
Bard

Paean of Pain -> Guitar Rhapsody

Blazing Requiem -> Chicklet Variation

Fiery Requiem -> Rainbow Variation