4.5 Update - Wrapping System
From Aion PowerBook
Learn about the new Wrapping System!

4.5 Update introduced a new way to trade some of the untradeable items.
Just remember the most of the wrappable items are below Level 65.

Related> 4.5 Update
Features

Only certain items can be wrapped.
- Only few level 65 items can be wrapped.
- Abyss Items, Coin Items and Soul Bounded Items can not be wrapped.
- You can check list of all wrappable items below: Wrappable Items.

Packaging Scrolls are required to wrap an Item.
- Type of the Scroll depands on three things:.
· Level: Level 65 and below, Level 60 and below
· Type: Weapon, Armour, Accessory
· Grade: Eternal, Fabled
- For more information see: Packaging Scrolls.

Wrapped Items can be traded.
- Items are automatically unwrapped once the deal is finalized.
- Wrapped Items can not be moved to the Account Warehouse.

All enchantments stay untouched.
- Enchantment Level, Manastones, Godstones, Idians, Apperances remain the same.
- Armsfused Items can not be wrapped so remove the secondary weapon before using a scroll.
Guide

Wrapping an Item requires appropriate Packaging Scroll.
Double-click on the scroll and select a wrappable Item.

You wrap Items by:
1. Double-clicking on the Packaging Scroll.
2. Selecting a wrappable Item.
3. Choosing [Yes] in the pop-up window.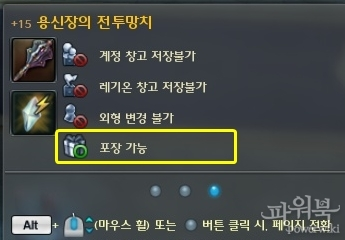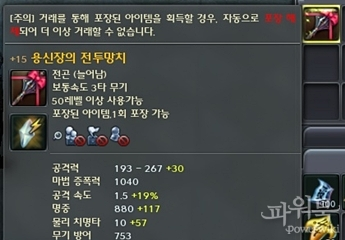 Wrappable Items