Returning Daeva's Support Quests
From Aion PowerBook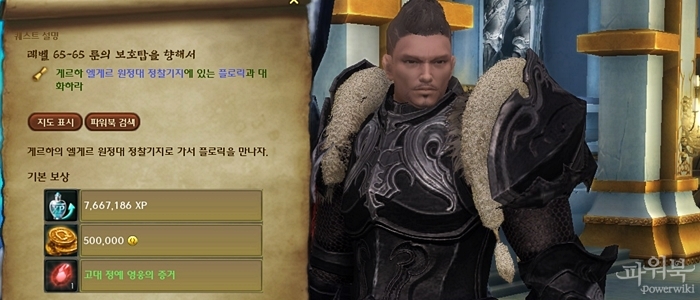 If you are a Returning Daeva go to the Sanctuary and start your new quests.

All support quest can be easily finished and give very good rewards. Do not forget about the daily quest that give Returning Daeva's Support Keys and increase the amount of rewards even more.
Features

■ Start
When you connect for the first time after a brake you will automatically receive a pilot quest (Elyos:
Returning Daeva's Sanctuary
. To complete you first quest enter the Sanctuary through a statue at your main city, as a reward you will receive equipment item that you can use to upgrade to a more powerful item later on. You must complete this quest before accepting any new support quests.

■ Easy quest with high rewards
Support quests give much more experience and Kinah then regular quests.
The difficulty of those quests is pretty low.

■ Support Equipment Upgrade
Quests that give you Proof of a Hero and Proof of an Elite Hero as rewards.
Those items are required to upgrade Returning Daeva's Support Equipment items.

■ Daily Quests for Support Keys
Quest that give you Returning Daeva's Support Key every day.
There is a quest for each level range.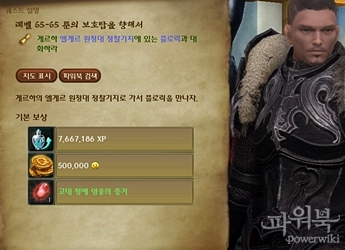 Elyos Quests
Quest Name
Min
Level
Rewards
999

XP 11,237



Hero's Coin 2
999

XP 59,248



Hero's Coin 2
999

XP 138,125



Hero's Coin 2
999

XP 328,131



Hero's Coin 2
999

XP 688,103



Hero's Coin 2
999

XP 1,905,262



Hero's Coin 2
999

XP 4,543,041



Hero's Coin 2
999

XP 6,242,224



Hero's Coin 2
999

XP 6,937,236



Hero's Coin 2
999

XP 7,283,931



Hero's Coin 2
999

XP 7,283,931



Hero's Coin 2
999

XP 7,667,186



Hero's Coin 2
Quest Name
Min
Level
Rewards
999

XP 21,032


999

XP 21,032


Kinah 48,150



Hero's Coin 5
999

XP 11,237



Hero's Coin 2
999

XP 45,095



Hero's Coin 2
999

XP 138,125



Hero's Coin 2
999

XP 285,255



Hero's Coin 2
999

XP 593,431



Hero's Coin 2
999

XP 1,905,262



Hero's Coin 2
999

XP 4,543,041



Hero's Coin 2
999

XP 6,242,224



Hero's Coin 2
999

XP 6,242,224



Hero's Coin 2
999

XP 6,242,224



Hero's Coin 2
999

XP 6,242,224



Hero's Coin 2
999

XP 6,242,224



Hero's Coin 2
999

XP 6,937,236



Hero's Coin 2
999

XP 6,937,236



Hero's Coin 2
999

XP 6,937,236



Hero's Coin 2
999

XP 7,283,931



Hero's Coin 2
999

XP 7,283,931



Hero's Coin 2
999

XP 7,283,931



Hero's Coin 2
999

XP 7,283,931



Hero's Coin 2
999

XP 7,283,931



Hero's Coin 2
999

XP 7,283,931



Hero's Coin 2
999

XP 7,283,931



Hero's Coin 2
999

XP 7,667,186



Hero's Coin 2
999

XP 7,667,186



Hero's Coin 2
999

XP 7,667,186



Hero's Coin 2
999

XP 7,667,186



Hero's Coin 2
999

XP 7,667,186



Hero's Coin 2
999

XP 7,667,186



Hero's Coin 2
999

XP 7,667,186



Hero's Coin 2
999

XP 7,667,186



Hero's Coin 2
Asmodian Quests
Quest Name
Min
Level
Rewards
999

XP 11,237



Hero's Coin 2
999

XP 59,248



Hero's Coin 2
999

XP 138,125



Hero's Coin 2
999

XP 328,131



Hero's Coin 2
999

XP 688,103



Hero's Coin 2
999

XP 1,905,262



Hero's Coin 2
999

XP 4,543,041



Hero's Coin 2
999

XP 6,242,224



Hero's Coin 2
999

XP 6,937,236



Hero's Coin 2
999

XP 7,283,931



Hero's Coin 2
999

XP 7,283,931



Hero's Coin 2
999

XP 7,667,186



Hero's Coin 2
Quest Name
Min
Level
Rewards
999

XP 21,032


999

XP 21,032


Kinah 48,150



Hero's Coin 5
999

XP 11,237



Hero's Coin 2
999

XP 45,095



Hero's Coin 2
999

XP 138,125



Hero's Coin 2
999

XP 285,255



Hero's Coin 2
999

XP 593,431



Hero's Coin 2
999

XP 1,905,262



Hero's Coin 2
999

XP 4,543,041



Hero's Coin 2
999

XP 6,242,224



Hero's Coin 2
999

XP 6,242,224



Hero's Coin 2
999

XP 6,242,224



Hero's Coin 2
999

XP 6,242,224



Hero's Coin 2
999

XP 6,242,224



Hero's Coin 2
999

XP 6,937,236



Hero's Coin 2
999

XP 6,937,236



Hero's Coin 2
999

XP 6,937,236



Hero's Coin 2
999

XP 7,283,931



Hero's Coin 2
999

XP 7,283,931



Hero's Coin 2
999

XP 7,283,931



Hero's Coin 2
999

XP 7,283,931



Hero's Coin 2
999

XP 7,283,931



Hero's Coin 2
999

XP 7,283,931



Hero's Coin 2
999

XP 7,283,931



Hero's Coin 2
999

XP 7,667,186



Hero's Coin 2
999

XP 7,667,186



Hero's Coin 2
999

XP 7,667,186



Hero's Coin 2
999

XP 7,667,186



Hero's Coin 2
999

XP 7,667,186



Hero's Coin 2
999

XP 7,667,186



Hero's Coin 2
999

XP 7,667,186



Hero's Coin 2
999

XP 7,667,186



Hero's Coin 2
---
Share your opinion